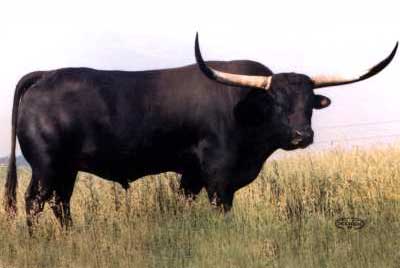 Reg.:
I-215182
DOB:
6/6/1991
Color:
Black
Weight:
2050
(on 6/11/1998)
Horns:
65.0
(on 11/18/2002)
The Shadow THE SHADOW is a big 2070 lb. black bull possessing excellent hip and great thickness. At DCCI he was the great sire that gave much forward progress. Use him for black, horn, height, length, disposition, milk, and size. His best sons are Mile Marker and Shadowizm. He sired the longest horned 5 year old steer in history at 96 T2T Shadow Spear. He sired Shadow Jubilee an early over 90 inch cow. He is no longer with us but he works daily with frozen semen and solid foundation champions. The Fortieth Anniversary of the Dickinson Family Longhorn business was celebrated on June 6, 2007, The Shadow's birth day. His pedigree traces to the first calf owned by DCCI, Caledonia, six generations back.
This is a presentation of a Dickinson Cattle Co. LLC Inventory Item. This presentation was printed on 8/13/2020. Prices are subject to change. Please check the current item price and description at
www.texaslonghorn.com/inventory
. Or contact your DCC sales representative.
Thank You for your interest!