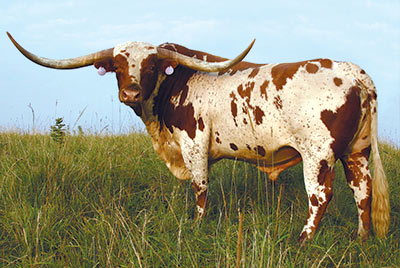 Reg.:
I-214995
DOB:
3/26/1996
Color:
W/R Spots
Weight:
1880
(on 4/15/2003)
Horns:
79.0
(on 2/12/2013)
Super Bowl He has 79 tip-to-tip horns at age 17. He is the grand sire of Clear Win (see You Tube) Bouncer his grand sire, sired the largest horned steers and horn circumference of any Longhorn bull. This flashy pinto stamps a cookie cutter duplicate appearance to his calves that is not seen often. He breeds very small ears, a small symmetrical head, consistent deep red pinto colors and serious horn. Super Bowl was bred and raised by Dickinson Cattle Co., Inc. His daughters and grand progeny have sold for up to $380,000.
This is a presentation of a Dickinson Cattle Co. LLC Inventory Item. This presentation was printed on 8/13/2020. Prices are subject to change. Please check the current item price and description at
www.texaslonghorn.com/inventory
. Or contact your DCC sales representative.
Thank You for your interest!