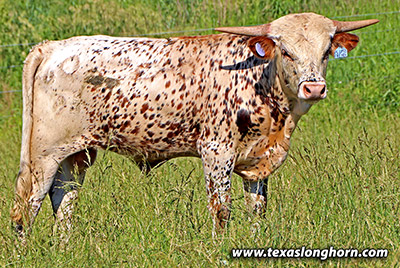 DOB:
7/7/2019
Color:
W/R spkd
Weight:
546
(on 6/8/2020)
Horns:
31.0
(on 6/8/2020)
Plumb Friendly x Tibbs - 2019 Bull He is bred high as a spotted owl's nest in a downtown park. More specks than a dumpster explosion. He will win shows like crazy in the Summer calf class. Brindle base color. More stamina than a Somolia pirate; will gain weight like a quarantined teenager.
This is a presentation of a Dickinson Cattle Co. LLC Inventory Item. This presentation was printed on 8/10/2020. Prices are subject to change. Please check the current item price and description at
www.texaslonghorn.com/inventory
. Or contact your DCC sales representative.
Thank You for your interest!