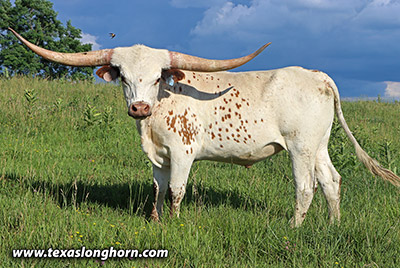 DOB:
6/22/2018
Color:
W/R Spts
Weight:
1090
(on 5/24/2021)
Horns:
73.0
(on 5/24/2021)
Royal Victor He is a full brother to Bell Point who is well over 100" T2T. Buy before he is 120" and save a wheel barrow of money. All the grab-the-eye stuff is here... more than an elephant on a bicycle. Measuring 73" on 5-24-21. Notice the great hair growth on his horn line?
This is a presentation of a Dickinson Cattle Co. LLC Inventory Item. This presentation was printed on 9/22/2021. Prices are subject to change. Please check the current item price and description at
www.texaslonghorn.com/inventory
. Or contact your DCC sales representative.
Thank You for your interest!