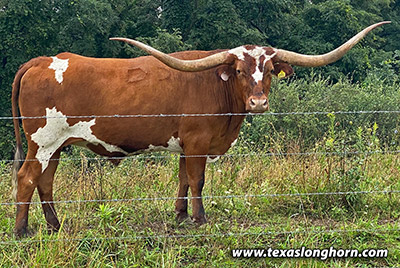 DOB:
6/20/2017
Color:
R/W Pnt
Weight:
1330
(on 5/24/2021)
Horns:
81.25
(on 5/24/2021)
Band Wagon He is everything anyone would want in an exhibition steer. Look at that face! Horns tip to tip on 5-24-21 is 81.25". Tall as a buggy horse. Long as a preacher's joke. Does not shed horns in the fall. Sells with all semen rights as needed.
This is a presentation of a Dickinson Cattle Co. LLC Inventory Item. This presentation was printed on 9/22/2021. Prices are subject to change. Please check the current item price and description at
www.texaslonghorn.com/inventory
. Or contact your DCC sales representative.
Thank You for your interest!