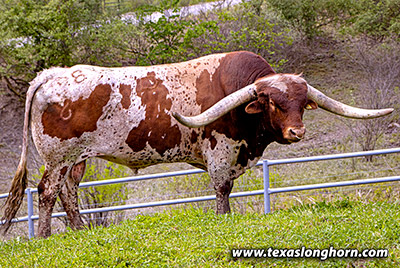 Reg.:
I-275229
DOB:
6/1/2016
Color:
R/W
Weight:
1726
(on 11/27/2019)
Horns:
84.0
(on 6/6/2019)
Iron Span May be the top Drag Iron son ever. His dam, one of DCC's most twist-horned cows, also produced Non Stop. He has been shown at halter twice winning ORVTLA Grand Champion All Age Bull and also ITLA 2017 Grand Champion Bull at the Championship show. Horns 78" at 909 days. He has low scoop-back horn with both tips removed. Bred on select DCC cows 2018 & 2019.
This is a presentation of a Dickinson Cattle Co. LLC Inventory Item. This presentation was printed on 8/13/2020. Prices are subject to change. Please check the current item price and description at
www.texaslonghorn.com/inventory
. Or contact your DCC sales representative.
Thank You for your interest!