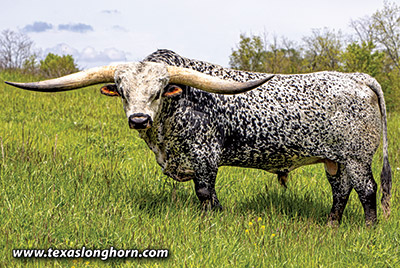 Reg.:
I-272971
DOB:
6/5/2015
Color:
W/B Spk
Weight:
2272
(on 11/27/2019)
Horns:
89.0
(on 6/18/2020)
Flair Galore Every 5 years the good Lord blesses our family with a great bull. We think this may be the 5 year answer to prayer. He is so breath taking, it almost demands polite gentlemen remove their Stetsons and savor a moment of silence upon first sight. This Jamakizm X Clear Win banding has worked every direction the hand has been played. Watch him. Above the horn value is a huge muscular bull with the prettiest speckled color there ever was. He is not only a total, but an extreme genetic bundle of total. He abandoned single factor selection 6 factors back.
This is a presentation of a Dickinson Cattle Co. LLC Inventory Item. This presentation was printed on 8/13/2020. Prices are subject to change. Please check the current item price and description at
www.texaslonghorn.com/inventory
. Or contact your DCC sales representative.
Thank You for your interest!