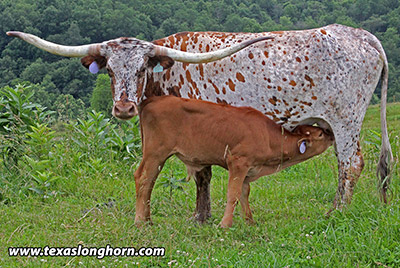 Reg.:
I-266053
DOB:
3/29/2013
Color:
W/R Spk
Weight:
978
(on 11/13/2018)
Horns:
75.0
(on 11/13/2018)
Sequoia Jolt Sequoia Jolt is right in the middle of where a good herd should be. Her sire was one of the tallest bulls ever bred at DCC. She has one horn tip kebotchulated. Horn T2T calculated by adjustment. Bull calf at side born 4-10-19 by Cut'n Dried (see refereence sires) already sold, test neg Johne's. She will catch your eye, even with poor eye-sight. Residential delivery anywhere at a seperate fee. Service sire: Time Line, 2065 lbs and 85.63" T2T.
This is a presentation of a Dickinson Cattle Co. LLC Inventory Item. This presentation was printed on 10/20/2019. Prices are subject to change. Please check the current item price and description at
www.texaslonghorn.com/inventory
. Or contact your DCC sales representative.
Thank You for your interest!