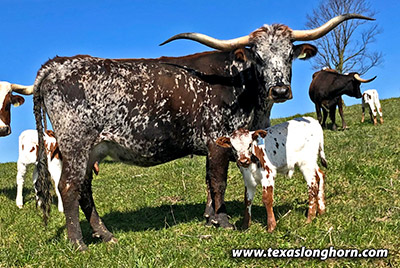 Reg.:
I-257417
DOB:
4/12/2011
Color:
W/Bk M
Weight:
1180
(on 11/19/2019)
Horns:
63.38
(on 6/11/2020)
Service Sire:
Drop Box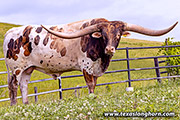 Price:
$4200

Ellie Many think she is the prettiest speckled tri-color cow at DCC. She is very much like her grand dam Shadow Jubilee who went over 91" T2T. This is a rare colorful cow who will decorate a pasture the second she jumps off the trailer. Iron Span bull at side born 4-5-20. Service sire: Drop Box.
This is a presentation of a Dickinson Cattle Co. LLC Inventory Item. This presentation was printed on 8/13/2020. Prices are subject to change. Please check the current item price and description at
www.texaslonghorn.com/inventory
. Or contact your DCC sales representative.
Thank You for your interest!