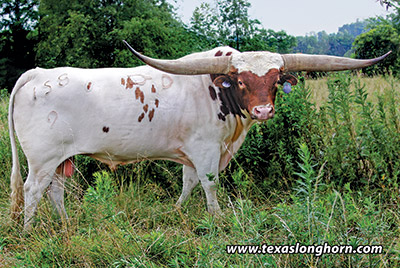 Reg.:
I-255834
DOB:
5/4/2009
Color:
W/R Hd
Weight:
1910
(on 6/7/2017)
Horns:
87.38
(on 6/7/2017)
Clear Win This prime specimen is for those who want extreme conformation to correct frail genetics. He has 126 DNA or blood types on file accurately documenting ancestry. He has great conformation, thick muscle, huge forearm, hip personified, record horn T2T with a pedigree fully documented. He has a sire lineage all over a ton for 5 generations. With his oldest calves coming age 6 he has 2 sons over 90" T2T. He was crowned 2014 Horn Showcase World Champion Composite and currently tops the tape at 87 1/8 inch T2T.
This is a presentation of a Dickinson Cattle Co. LLC Inventory Item. This presentation was printed on 8/13/2020. Prices are subject to change. Please check the current item price and description at
www.texaslonghorn.com/inventory
. Or contact your DCC sales representative.
Thank You for your interest!