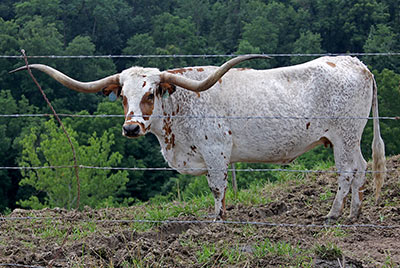 Reg.:
I-251072
DOB:
4/10/2008
Color:
W/R
Weight:
1300
(on 6/17/2014)
Horns:
85.5
(on 6/11/2015)
Theme Song She is a Shadowizm x Super Bowl blend with the most popular 4 original families. Tip to tip is 86 inches. She is long, tall and trim. Less than 17 cows have raised 2 over 80 inch progeny. She is fun to watch. Her Jamakizm son named Hooray is 85.13 inches and can be seen on the Arrowhead site. Her over 80 inch Drag Off daughter by Drag Iron has been a major export embryo provider.
This is a presentation of a Dickinson Cattle Co. LLC Inventory Item. This presentation was printed on 5/13/2021. Prices are subject to change. Please check the current item price and description at
www.texaslonghorn.com/inventory
. Or contact your DCC sales representative.
Thank You for your interest!