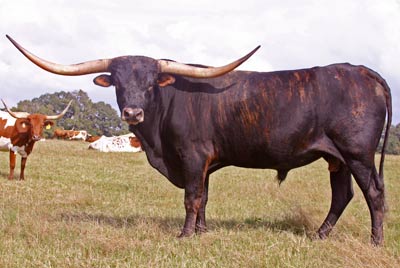 Reg.: T-71859
DOB: 5/22/2003
Color: Red Brindle

Jamakizm Jamakizm was bred by Tom Smith and developed by Dick Lowe. When he was first collected DCCI purchased 100 straws of semen and some really great things happened. From the first year's AI the great bull Drag Iron was born then Juma, Jack Pot, Hooray and Jamster. Jamakizm by Shadowizm added the dark minimal-white pattern with consistent brindle. His body is one of the tallest and longest of modern TL sires. His greatness comes from the strength to sire great males and females which few other bulls can do. Horn 83 T2T. Jamakizm is a great contributor to modern value genetics.
This is a presentation of a Dickinson Cattle Co. LLC Inventory Item. This presentation was printed on 8/13/2020. Prices are subject to change. Please check the current item price and description at
www.texaslonghorn.com/inventory
. Or contact your DCC sales representative.
Thank You for your interest!