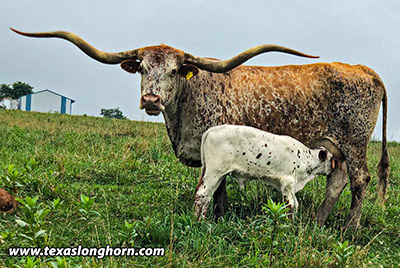 Reg.:
I-241620
DOB:
6/19/2004
Color:
R/W spk
Weight:
1320
(on 11/21/2011)
Horns:
91.38
(on 10/8/2019)

Jester Jester combines every foundation great DCCI sire and female line all in one pedigree. Not only one of the fastest horn growing females in history, but also maximum twist for her age. Winchester, her sire, was used by DCCI for 5 years natural. There are 33 half sisters or brothers to her in the DCCI herd. She is T2T over 90 inches. ITLA International horn and judged International champion the same year. Jester may be the largest weight of any over 90 cow at 1320 lbs. Watch her family grow in the DCCI herd. Now mother of 31 calves.
This is a presentation of a Dickinson Cattle Co. LLC Inventory Item. This presentation was printed on 8/10/2020. Prices are subject to change. Please check the current item price and description at
www.texaslonghorn.com/inventory
. Or contact your DCC sales representative.
Thank You for your interest!