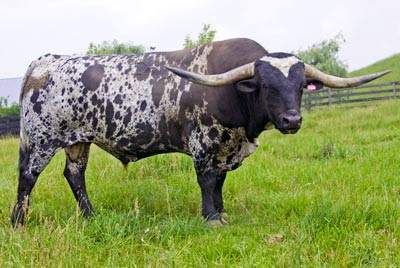 Reg.:
I-238397
DOB:
3/31/2003
Color:
Bk/W spk
Weight:
2100
(on 12/4/2009)
Horns:
80.0
(on 11/11/2013)
Over Kill Sire, Over Head was the first over 6' black spotted TL bull. Over Kill's dam, "Field Of Pearls" was twice ITLA International Champion. She produced Tempter 87 inches; World Champion Dragon Pearl, News Flash, Finish Line and Super Fielder. OVER KILL is the leading sire of black base bulls in history. He is well respected for siring 70% black base progeny and low twisted horn shapes. Due to a back injury suffered during his vigorous dedication to multiple services, he is no longer the senior sire at DCC. To add black flamboyant color, a 2100 lb beef body, and smooth correct conformation, he started a very profitable family of cattle.
This is a presentation of a Dickinson Cattle Co. LLC Inventory Item. This presentation was printed on 8/13/2020. Prices are subject to change. Please check the current item price and description at
www.texaslonghorn.com/inventory
. Or contact your DCC sales representative.
Thank You for your interest!