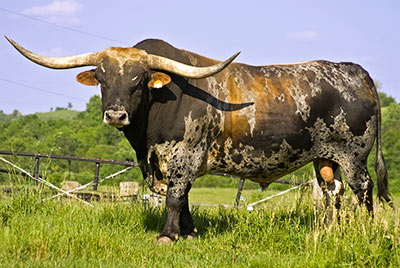 Reg.:
I-236148
DOB:
4/8/2002
Color:
Brn/W
Weight:
2065
(on 6/12/2009)
Horns:
68.63
(on 11/16/2009)
Victory Lap He is one of the two best known sons of Winchester. He has progeny on 4 continents. His semen is used in New Zealand, Brazil and Australia. Typical of his calves is the tri-color black-bold spotted blend. Take a look at his progeny below. Drag Iron's dam is sired by Victory Lap. He is well respected for thick beef conformation, gentle disposition and one of the top 180 US sires for T2T. He is a real meat wagon, whatever that is?
This is a presentation of a Dickinson Cattle Co. LLC Inventory Item. This presentation was printed on 8/13/2020. Prices are subject to change. Please check the current item price and description at
www.texaslonghorn.com/inventory
. Or contact your DCC sales representative.
Thank You for your interest!