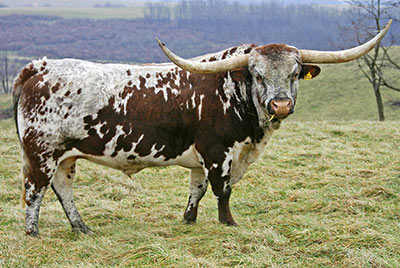 Reg.:
I-235787
DOB:
3/25/2002
Color:
Brn/W Spk
Weight:
1635
(on 10/19/2005)
Horns:
71.5
(on 10/19/2007)
Mile Marker A lot was expected of this maroon speckled bull. He will go down in history as one of the all time great maternal sires. He is a half brother to Shadow Jubilee one of the first cows to bump over 90 inches. Mile Marker is famous for being one of the best of the foundation sires. He has it all with nearly a ton weight, perfect disposition and a high percentage of growthy calves with lacey faces and wine colors. He is grand sire of Drag A Mile, Clear Point, Tibbs, etc.
This is a presentation of a Dickinson Cattle Co. LLC Inventory Item. This presentation was printed on 8/13/2020. Prices are subject to change. Please check the current item price and description at
www.texaslonghorn.com/inventory
. Or contact your DCC sales representative.
Thank You for your interest!