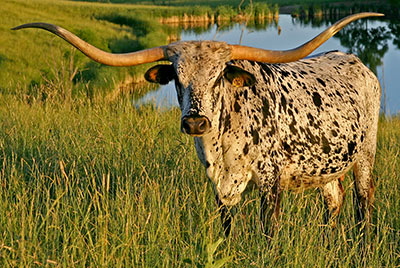 Reg.:
I-230255
DOB:
5/5/2000
Color:
W/Bl spk
Weight:
1234
(on 6/10/2009)
Horns:
88.0
(on 10/1/2011)

Shadow Jubilee She has been used for clone production, natural and embryo births. With the semen and use of her sons Trial Run and Jubal Jangler, many grand get of Jubilee are nation wide. She was voted the 2010 Ultimate Cow at the World Horn Show. On her passing she was 91 inches T2T. She has 4 clones over 90".
This is a presentation of a Dickinson Cattle Co. LLC Inventory Item. This presentation was printed on 8/10/2020. Prices are subject to change. Please check the current item price and description at
www.texaslonghorn.com/inventory
. Or contact your DCC sales representative.
Thank You for your interest!