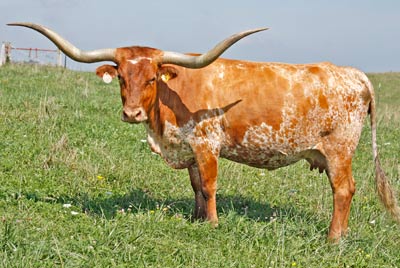 Reg.:
I-228450
DOB:
3/25/2000
Color:
R/W spk
Weight:
1245
(on 5/23/2012)
Horns:
71.25
(on 11/23/2012)

Field of Pearls Field of Pearls was International Champion Non Halter Female in 2006. She is dam of Tempter and Over Kill, two of the widest horned bulls in history. She is the dam of 3 over 80" sons and lots more on the way. She is dam of Dragon Pearl who has 3 over 80" sons age 2, 3, & 4. She has 5 daughters and 83 grand daughters in the DCC herd.
This is a presentation of a Dickinson Cattle Co. LLC Inventory Item. This presentation was printed on 8/10/2020. Prices are subject to change. Please check the current item price and description at
www.texaslonghorn.com/inventory
. Or contact your DCC sales representative.
Thank You for your interest!