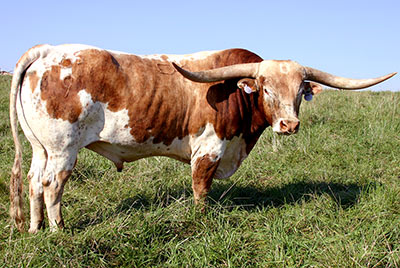 Reg.:
I-228451
DOB:
4/11/1999
Color:
R/W
Weight:
2010
(on 6/10/2005)
Horns:
70.38
(on 11/1/2006)
Winchester This son of the great beef sire, Gizmo was 71.5 T2T at 6 years of age, and his ton body continued to grow more horn with age. Notice his especially trim underline and abundant bone substance. He wrote a new chapter in the Longhorn legend book. DCC used Winchester 6 years and used 7 of his sons including Win Win, Winning Sky, Victory Lap, etc. He is the grand sire of Clear Win. DCC herd is mostly line bred Winchester. It works when blended right. 1999 to 2016. Sold to Stan Searle.
This is a presentation of a Dickinson Cattle Co. LLC Inventory Item. This presentation was printed on 8/13/2020. Prices are subject to change. Please check the current item price and description at
www.texaslonghorn.com/inventory
. Or contact your DCC sales representative.
Thank You for your interest!