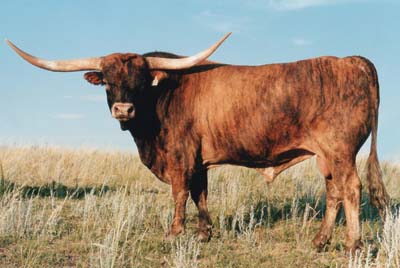 Reg.:
I-224581
DOB:
4/15/1998
Color:
Red Brindle
Weight:
1890
(on )
Horns:
71.5
(on 5/16/2009)
Shadowizm He is a gold and black stripped brindle. His horn measurement is 73" T2T. Possibly few, or no other bulls have ever matched this female siring ability. Shadowizm has sired several over 80" progeny both male and female. His usefulness lives on like very few other sires. He has very correct conformation, a straight top line and good rate of gain. His sire is 2070 lbs. and his dams's sire is 2200 lbs. His birth weight was 66 lbs. Shadowizm sired champion Shad Theme, Bella Bellucci, Capone and Jamakizm, all over 70 or 80 T2T.
This is a presentation of a Dickinson Cattle Co. LLC Inventory Item. This presentation was printed on 8/13/2020. Prices are subject to change. Please check the current item price and description at
www.texaslonghorn.com/inventory
. Or contact your DCC sales representative.
Thank You for your interest!