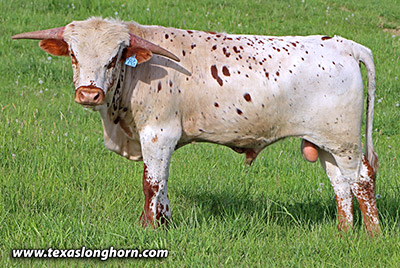 DOB:
5/5/2021
Color:
W/R spks
Weight:
1004
(on 9/26/2022)
Horns:
50.25
(on 9/26/2022)
Top Marks He could win some big shows as his red roan colors increase even while he sleeps. Great weaning weight. Packing the consistent Point Mark stamp of excellence. Hip like a Biden Sec of Nutrition appointee. This is the age to buy low and watch the genetics explode in increased value. Stage #1 halter trained.
This is a presentation of a Dickinson Cattle Co. LLC Inventory Item. This presentation was printed on 12/1/2022. Prices are subject to change. Please check the current item price and description at
www.texaslonghorn.com/inventory
. Or contact your DCC sales representative.
Thank You for your interest!