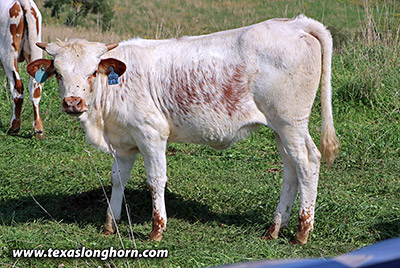 DOB: 4/23/2021
Color: W/R
Adagio Flair x Time Line - 2021 Hf. You can see it coming already. She will be wall to wall wine roan. Should have horns to reach across the Potomic. Notice her heavy thick horn base hair and wide pole.
This is a presentation of a Dickinson Cattle Co. LLC Inventory Item. This presentation was printed on 9/22/2021. Prices are subject to change. Please check the current item price and description at
www.texaslonghorn.com/inventory
. Or contact your DCC sales representative.
Thank You for your interest!