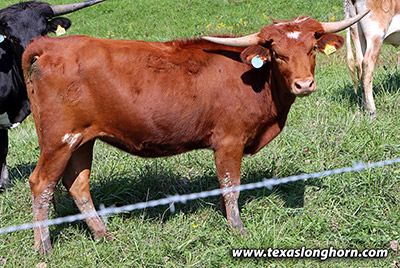 DOB:
5/23/2020
Color:
Red
Weight:
522
(on 5/17/2021)
Horns:
27.25
(on 5/17/2021)
Service Sire:
Tin Cup
Price:
$2100
Sorry, already Sold
TAxNE

Jest Go Jam She is a plain red wrapper but down deep royal as Princess Diana. Surprise one of the few Elfegos not black spotted. Close up Jamakizm. She is priced to leave soon. I don't know why I priced her so low?? All the great genetics without the high cost.
This is a presentation of a Dickinson Cattle Co. LLC Inventory Item. This presentation was printed on 9/22/2021. Prices are subject to change. Please check the current item price and description at
www.texaslonghorn.com/inventory
. Or contact your DCC sales representative.
Thank You for your interest!