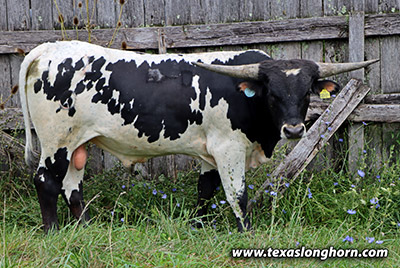 DOB:
4/15/2020
Color:
R/W
Weight:
882
(on 8/5/2021)
Horns:
43.13
(on 8/5/2021)
Pecos Depot He is a futurity bull waiting to be entered. He will knock everyone's socks off. Smooth as a radar trap on the down hill side. Correct from one end to the other. Not steer chested. More color than Al Sharpton's private jet. Certified pre-owned. No leased or borrowed bulls in his pedigree. Clean as a meat axe.
This is a presentation of a Dickinson Cattle Co. LLC Inventory Item. This presentation was printed on 9/22/2021. Prices are subject to change. Please check the current item price and description at
www.texaslonghorn.com/inventory
. Or contact your DCC sales representative.
Thank You for your interest!