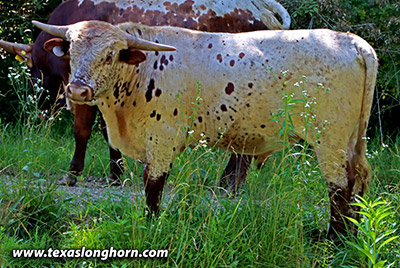 DOB:
6/25/2019
Color:
W/R Spks
Weight:
732
(on 6/8/2020)
Horns:
30.75
(on 6/8/2020)
Jester x Iron Span - 2019 Bull He is the last natural Jester son born at DCC. His planned parentage is richer than Joe Biden. Halter trained. Perfect horn direction. He is 6th best gain of DCC bulls at 365 days. Next year he will be speckulated as his famous dam.
This is a presentation of a Dickinson Cattle Co. LLC Inventory Item. This presentation was printed on 8/10/2020. Prices are subject to change. Please check the current item price and description at
www.texaslonghorn.com/inventory
. Or contact your DCC sales representative.
Thank You for your interest!