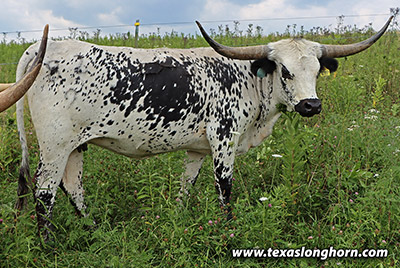 Reg.:
I-284050
DOB:
6/13/2019
Color:
W/B spkld
Weight:
840
(on 6/1/2021)
Horns:
49.5
(on 6/1/2021)
Spokes Buzz Spokes Buzz is the first of many beautiful black speckled Spokesman heifers. Just visualize her as an 80" adult cow with a speckled Spokesman looking calf at side every year. Don't buy her if she is going to make your other cattle look bad. Preg check pos to Point Mark for fall calf 2021. She needs rescued from a life of walking in deep grass and over eating.
This is a presentation of a Dickinson Cattle Co. LLC Inventory Item. This presentation was printed on 9/22/2021. Prices are subject to change. Please check the current item price and description at
www.texaslonghorn.com/inventory
. Or contact your DCC sales representative.
Thank You for your interest!