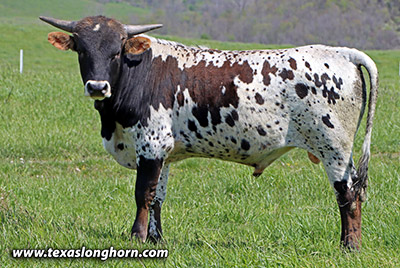 DOB:
5/27/2019
Color:
R/W
Weight:
802
(on 6/8/2020)
Horns:
29.13
(on 6/8/2020)
Roses For the Winner x Hooray This is possibly the thickest banding of genetics at DCC. His dam was All Age ORVTLA Champion cow 2017 and weighs 1285 lbs. She is Clear Win's full sister. More color than a skittles wrapper. His progeny will weigh like a Congressman with his thumb on the scales.
This is a presentation of a Dickinson Cattle Co. LLC Inventory Item. This presentation was printed on 8/10/2020. Prices are subject to change. Please check the current item price and description at
www.texaslonghorn.com/inventory
. Or contact your DCC sales representative.
Thank You for your interest!