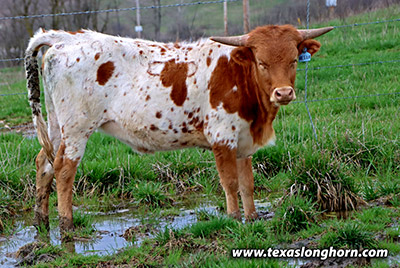 DOB:
5/21/2019
Color:
R/W
Weight:
480
(on 6/9/2020)
Horns:
32.38
(on 6/9/2020)
Neel Out Hold your breath........ look at the banding in this pedigree to include Tuff, Rim Rock, Jamakizm, and Clear Win. Unbelievable genetics full to the brim in one sweet package. She is moving forward and out-doing her pasture friends. Price has been increased. Service sire: Tied Off, by Saddlehorn.
This is a presentation of a Dickinson Cattle Co. LLC Inventory Item. This presentation was printed on 8/10/2020. Prices are subject to change. Please check the current item price and description at
www.texaslonghorn.com/inventory
. Or contact your DCC sales representative.
Thank You for your interest!