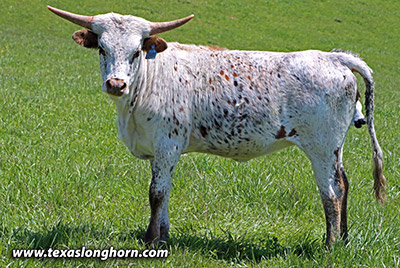 DOB:
4/28/2019
Color:
W/R spks
Weight:
564
(on 6/9/2020)
Horns:
31.38
(on 6/9/2020)
Front Caliber She is just starting to brindle all over - wait until she does the roaning process. Her pedigree has more famous heroes of the breed than Colin Kaepernick has bad decisions. This is your last chance to buy before Congress votes themselves another pay raise. Oops, sorry, too late. Service sire: What Not by Non Stop.
This is a presentation of a Dickinson Cattle Co. LLC Inventory Item. This presentation was printed on 8/10/2020. Prices are subject to change. Please check the current item price and description at
www.texaslonghorn.com/inventory
. Or contact your DCC sales representative.
Thank You for your interest!