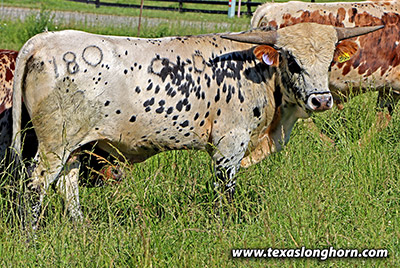 DOB:
4/28/2019
Color:
W/R spks
Weight:
928
(on 11/18/2020)
Horns:
48.5
(on 11/18/2020)
Well Spoken He is a rare grullo appaloosa pattern - unusual! He is the first spokesman son to release by DCC. For those who don't have money to waste, who want to build a dark grullo herd. Look at his wheel base, the hip and depth of body. Halter trained Stage #1. He won't play hockey with a warped stick.
This is a presentation of a Dickinson Cattle Co. LLC Inventory Item. This presentation was printed on 5/13/2021. Prices are subject to change. Please check the current item price and description at
www.texaslonghorn.com/inventory
. Or contact your DCC sales representative.
Thank You for your interest!