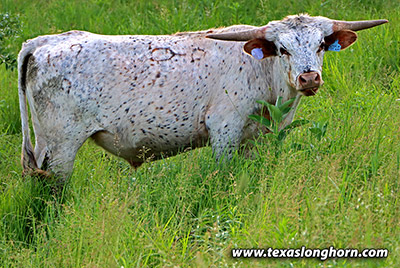 DOB:
3/2/2019
Color:
W/R Ears
Weight:
664
(on 5/29/2020)
Horns:
36.75
(on 5/29/2020)
Stolen Dream x Cut'n Dried his specks are expanding like knots on a wart hog. Look at his perfect horn-storm of over 80", 90", and 100" ancestors. For the next few years the brindle specks will multiply.
This is a presentation of a Dickinson Cattle Co. LLC Inventory Item. This presentation was printed on 8/13/2020. Prices are subject to change. Please check the current item price and description at
www.texaslonghorn.com/inventory
. Or contact your DCC sales representative.
Thank You for your interest!