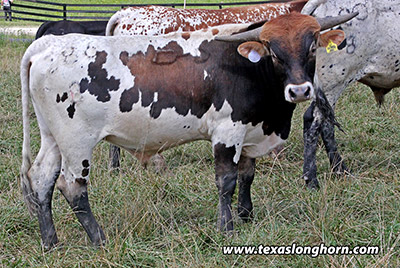 DOB:
7/24/2018
Color:
R/W
Weight:
618
(on 6/6/2019)
Horns:
25.25
(on 6/6/2019)
Gung Ho Lots of ton-plus blood. He is young or the price would be higher. Absolutely no Pinzgauer blood in his pedigree. His time is now. If he sires calves like his sire or dam, his new owner will be very happy and prosperous.
This is a presentation of a Dickinson Cattle Co. LLC Inventory Item. This presentation was printed on 8/17/2019. Prices are subject to change. Please check the current item price and description at
www.texaslonghorn.com/inventory
. Or contact your DCC sales representative.
Thank You for your interest!