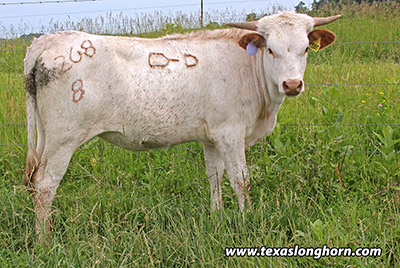 DOB:
6/27/2018
Color:
W/R Ears
Weight:
514
(on 6/7/2019)
Horns:
23.38
(on 6/7/2019)
A Ray of Light This Hooray heifer is roaning all over. All pedigrees at DCC guaranted PV by DNA. She is 4 times line bred Jamakizm. No borrowed, leased or unregistered cattle in her pedigree. Service sire: Elfego
This is a presentation of a Dickinson Cattle Co. LLC Inventory Item. This presentation was printed on 8/17/2019. Prices are subject to change. Please check the current item price and description at
www.texaslonghorn.com/inventory
. Or contact your DCC sales representative.
Thank You for your interest!