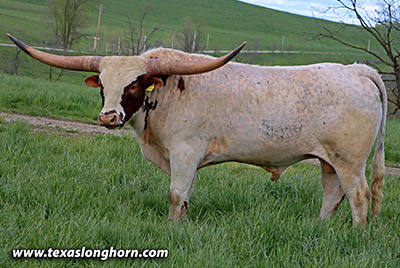 Reg.:
I-283915
DOB:
6/27/2018
Color:
W/R Hd
Weight:
1810
(on 8/5/2021)
Horns:
76.38
(on 8/5/2021)
Roman Holiday His sire will soon be 90" and already over 2100 lbs. This is the new frontier to have size and the whole enchilada all in one. His dam was ITLA 2020 All Age Grand Champion Halter cow in the toughest of Texas competition. Roman Holiday is halter trained stage #1, was bred at the Burris Ranch in 2020. Guaranteed not to bark or threaten defecation on the carpet or scratch on the bed room door periodically during the night. We guarantee our "sleep all night" bulls.
This is a presentation of a Dickinson Cattle Co. LLC Inventory Item. This presentation was printed on 9/22/2021. Prices are subject to change. Please check the current item price and description at
www.texaslonghorn.com/inventory
. Or contact your DCC sales representative.
Thank You for your interest!