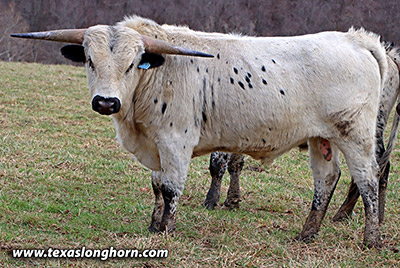 DOB:
5/31/2018
Color:
W/R Ears
Weight:
1044
(on 12/17/2019)
Horns:
45.75
(on 12/17/2019)
Sneaky Horn He is a scientific IVF son of 97" T2T Pretty lady. His rate of gain is one of the best for his age. He is a slow-coming blue roan. This pedigree goes clear back to Noah's Arc. Halter trained to stage #1. He has the black slow starting Saddlehorn factor.
This is a presentation of a Dickinson Cattle Co. LLC Inventory Item. This presentation was printed on 2/24/2020. Prices are subject to change. Please check the current item price and description at
www.texaslonghorn.com/inventory
. Or contact your DCC sales representative.
Thank You for your interest!