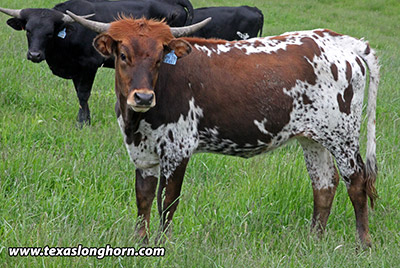 DOB:
5/26/2018
Color:
R/W
Weight:
578
(on 6/7/2019)
Horns:
29.75
(on 6/7/2019)
Out of Level She is a special planned Clear Win x Juma banding. She will spruce-up a pasture. She enjoys watching the sun set in the west and looks forward to long friendly walks in the evening with her herd bull. Her favorite food is birds foot treefoil.
This is a presentation of a Dickinson Cattle Co. LLC Inventory Item. This presentation was printed on 8/17/2019. Prices are subject to change. Please check the current item price and description at
www.texaslonghorn.com/inventory
. Or contact your DCC sales representative.
Thank You for your interest!