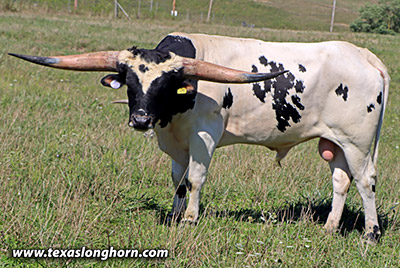 DOB:
4/27/2018
Color:
W/R hd, lgs
Weight:
1122
(on 9/16/2020)
Horns:
72.63
(on 9/16/2020)
Point Ahead One of the last natural service Clear Point Sons. Horn is not a guess - its a future fact. Halter trained stage #1. His horn is growing like bad habits on the neighbors dog, but he won't turn over your trash barrel. Right in the middle of very good. This is your last chance for him - once the new buyer gets him he won't be for sale again.
This is a presentation of a Dickinson Cattle Co. LLC Inventory Item. This presentation was printed on 5/13/2021. Prices are subject to change. Please check the current item price and description at
www.texaslonghorn.com/inventory
. Or contact your DCC sales representative.
Thank You for your interest!