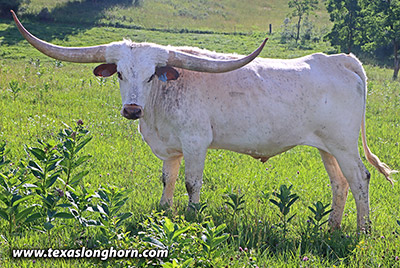 DOB:
4/19/2018
Color:
W/R ears
Weight:
1190
(on 5/24/2021)
Horns:
73.25
(on 5/24/2021)
Dusty Knot Projects well above 100" at maturity. More specks growing monthly. Horns 73.25" 5-24-21. All semen rights included, but no guarantees. Not a KKK member, nor ever has been. Does not fake being a white supremacist.
This is a presentation of a Dickinson Cattle Co. LLC Inventory Item. This presentation was printed on 9/22/2021. Prices are subject to change. Please check the current item price and description at
www.texaslonghorn.com/inventory
. Or contact your DCC sales representative.
Thank You for your interest!