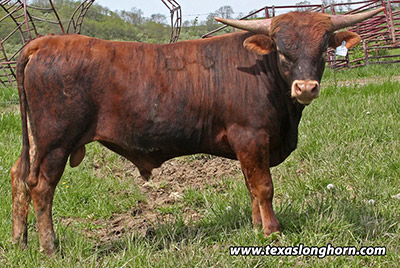 DOB:
4/18/2018
Color:
Red brindle
Weight:
870
(on 6/6/2019)
Horns:
38.5
(on 6/6/2019)
Strutting Stan he is brindling boldly. His full brother is Drag A Mile. His full sister is International All Age Grand Champion Female "Iron On" he could do great things. With a added fee delivery is included and a whole herd of cows.
This is a presentation of a Dickinson Cattle Co. LLC Inventory Item. This presentation was printed on 8/17/2019. Prices are subject to change. Please check the current item price and description at
www.texaslonghorn.com/inventory
. Or contact your DCC sales representative.
Thank You for your interest!