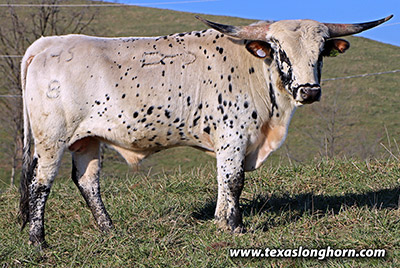 DOB:
4/14/2018
Color:
W/R spk
Weight:
1320
(on 3/18/2020)
Horns:
57.75
(on 3/18/2020)
Match Up His sire Hooray (2120 lbs) will establish another great sire line for Jamakizm. Match Up is for the ranch that wants to add rate of gain and thick type. Add one Golden Boy Henry Rifle for an additional fee. Stage 1 halter trained.
This is a presentation of a Dickinson Cattle Co. LLC Inventory Item. This presentation was printed on 8/13/2020. Prices are subject to change. Please check the current item price and description at
www.texaslonghorn.com/inventory
. Or contact your DCC sales representative.
Thank You for your interest!