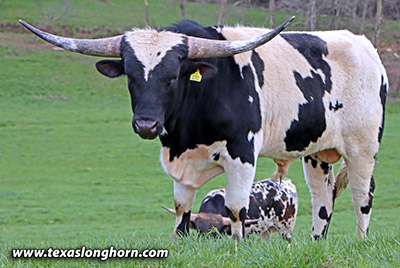 DOB:
4/9/2018
Color:
B/W Pnt
Weight:
1175
(on 3/18/2020)
Horns:
58.0
(on 3/18/2020)
Horn Wine He's a true black pinto and DNA tested homozygious black. Every calf of his will be black based. His sire was also. This is weapons grade genetics. Not many of these around. He is for one who wants to see black every time. No indolence what so ever.
This is a presentation of a Dickinson Cattle Co. LLC Inventory Item. This presentation was printed on 10/21/2020. Prices are subject to change. Please check the current item price and description at
www.texaslonghorn.com/inventory
. Or contact your DCC sales representative.
Thank You for your interest!