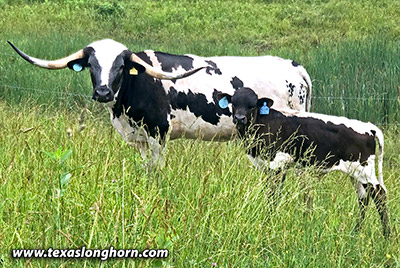 Reg.:
I-280658
DOB:
4/2/2018
Color:
B/W
Weight:
894
(on 6/2/2021)
Horns:
58.25
(on 6/2/2021)
Record Bliss She is a daughter of homyzygous black Saddlehorn out of the famous scoop horned Over Bliss owned by Jarnigan and Freeman. This family is black as Fidel Castro's heart, with more black on the way. She is a black roan carrier. Bull at side by Stop Already born 4-4-21. AI bred to Clear Point 7-14-21 and natural service to Point Mark 7-26-21.
This is a presentation of a Dickinson Cattle Co. LLC Inventory Item. This presentation was printed on 9/22/2021. Prices are subject to change. Please check the current item price and description at
www.texaslonghorn.com/inventory
. Or contact your DCC sales representative.
Thank You for your interest!