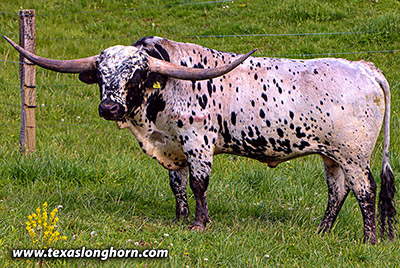 Reg.:
I-277479
DOB:
5/7/2017
Color:
W/B Spkd
Weight:
1784
(on 6/8/2020)
Horns:
75.5
(on 6/8/2020)
Spokesman is the wildest colored 2017 bull at DCC and all black horn. He has the Over Kill and line bred Top Caliber banding. He was test bred at DCC 2018 & 2019 to females that are light pale colors, solid colors and needing trimness. Semen available in Australia and qualified for European export. He is a fresh, stunning new genetic package for any export country. His black speckled heifers are eye-catchers.
This is a presentation of a Dickinson Cattle Co. LLC Inventory Item. This presentation was printed on 8/13/2020. Prices are subject to change. Please check the current item price and description at
www.texaslonghorn.com/inventory
. Or contact your DCC sales representative.
Thank You for your interest!