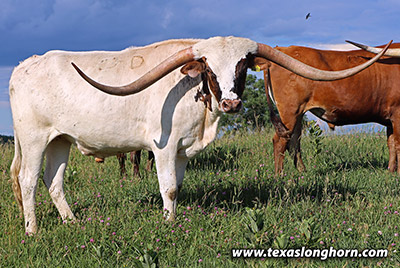 DOB:
4/29/2017
Color:
W/R Hd
Weight:
1140
(on 5/24/2021)
Horns:
82.0
(on 5/24/2021)
Steel Tuxedo The widest horned Tuxedo steer. Crazy face marking doesn't affect his thinking. Horns 5-24-21 T2T measures 82". His grand mother was clone technology, but he don't care. No guessing about his exhibition quality. A perfect rescue animal -- rescue from a life of walking in deep grass up and down hills, sleeping, eating, thinking, happy not to be rescued.
This is a presentation of a Dickinson Cattle Co. LLC Inventory Item. This presentation was printed on 9/22/2021. Prices are subject to change. Please check the current item price and description at
www.texaslonghorn.com/inventory
. Or contact your DCC sales representative.
Thank You for your interest!