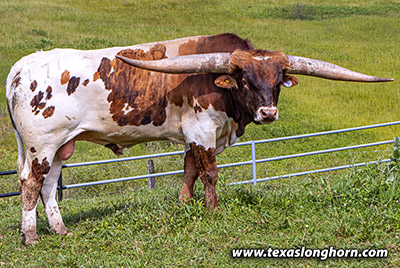 Reg.:
I-280449
DOB:
4/23/2017
Color:
R/W
Weight:
1704
(on 6/8/2020)
Horns:
86.63
(on 6/8/2020)
Point Mark This young brindle son of Clear Point has rapidly excelled in horn and body growth. T2T 85.5" T2T at 36 months. He was used at DCC in test mode Summer 2019, and looking good. He is more than horn and beef. Stay tuned. More later. The new generation of extreme young bulls are impeaching the older sires by the hundreds. It can be all in one basket.
This is a presentation of a Dickinson Cattle Co. LLC Inventory Item. This presentation was printed on 8/13/2020. Prices are subject to change. Please check the current item price and description at
www.texaslonghorn.com/inventory
. Or contact your DCC sales representative.
Thank You for your interest!