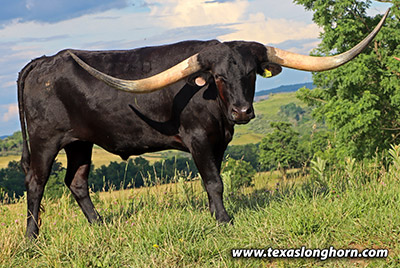 DOB:
4/19/2017
Color:
Black
Weight:
1258
(on 5/24/2021)
Horns:
82.63
(on 5/24/2021)
Stove Pipe One of the widest spreads of any black steer - 82-5/8" at 1496 days. You can't find him at night but in the sunlight he is bold as a Hollywood production. He is stunning, striking, bold appearing and very something. Everyone needs a black Texas Longhorn steer.
This is a presentation of a Dickinson Cattle Co. LLC Inventory Item. This presentation was printed on 9/22/2021. Prices are subject to change. Please check the current item price and description at
www.texaslonghorn.com/inventory
. Or contact your DCC sales representative.
Thank You for your interest!