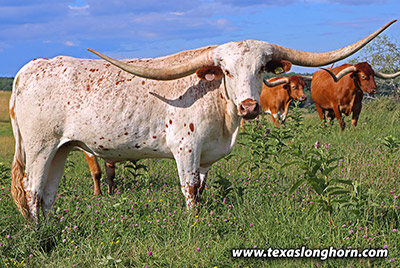 DOB:
4/12/2017
Color:
W/R spks
Weight:
1250
(on 5/24/2021)
Horns:
85.88
(on 5/24/2021)
High & Dry He is a sweet 85-7/8 at age 4. His dam is famous for producing Twisted Sister and Twisted Uncle. Remember, they were the loud mouths at the last family reunion? That projects him above 120 at maturity. He is humble and polite, as steers go.
This is a presentation of a Dickinson Cattle Co. LLC Inventory Item. This presentation was printed on 9/22/2021. Prices are subject to change. Please check the current item price and description at
www.texaslonghorn.com/inventory
. Or contact your DCC sales representative.
Thank You for your interest!