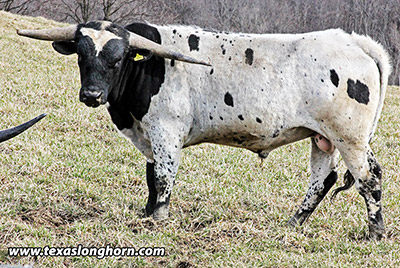 DOB:
4/10/2017
Color:
B/W
Weight:
1250
(on 6/6/2019)
Horns:
63.0
(on 6/6/2019)
Fickle Jet Many are looking for this tall frame and exact type. He could be the missing puzzle part for the next big genetic jump. Go with genetics proven not to embarass you. Cattle can make you happy or sad. He does not have a gender dysphoria problem no way, no how!
This is a presentation of a Dickinson Cattle Co. LLC Inventory Item. This presentation was printed on 7/18/2019. Prices are subject to change. Please check the current item price and description at
www.texaslonghorn.com/inventory
. Or contact your DCC sales representative.
Thank You for your interest!