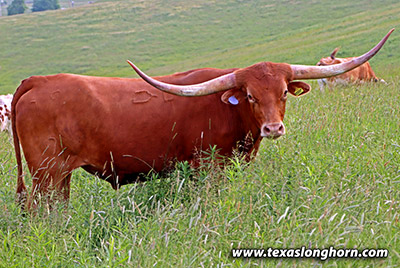 DOB:
4/10/2017
Color:
Red
Weight:
1184
(on 6/8/2020)
Horns:
71.25
(on 6/8/2020)
Wagon Wheel He will blow by 6 foot any day - go 80" during his 4th year and go over 100". He is fat, smooth, and gentle. Not trained to the yoke or to stand over a bucket to milk.
This is a presentation of a Dickinson Cattle Co. LLC Inventory Item. This presentation was printed on 8/13/2020. Prices are subject to change. Please check the current item price and description at
www.texaslonghorn.com/inventory
. Or contact your DCC sales representative.
Thank You for your interest!