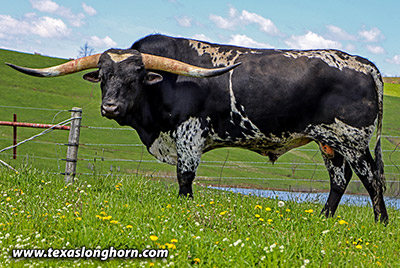 Reg.:
I-278128
DOB:
4/2/2017
Color:
B/W
Weight:
1692
(on 6/8/2020)
Horns:
74.5
(on 6/8/2020)
Elfego Elfego, named after the true Disney series of the Mexican lawman/attorney who was shot many times and glamorized with the song "Nine Lives Of Elfego Baca." Elfego the bull is 15 times line bred to Don Quixote and out of Jester the over 90" DCC Champion cow. Bred at DCC in 2018 and 2019 on light or pale colored females.
This is a presentation of a Dickinson Cattle Co. LLC Inventory Item. This presentation was printed on 8/13/2020. Prices are subject to change. Please check the current item price and description at
www.texaslonghorn.com/inventory
. Or contact your DCC sales representative.
Thank You for your interest!